Here's 2 long overdue community spotlights. @beya and our MVP Jim Foronda! May you both continue to be awesome!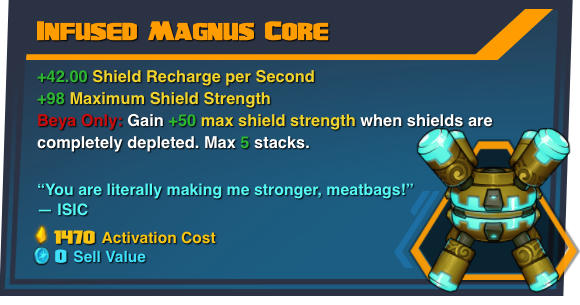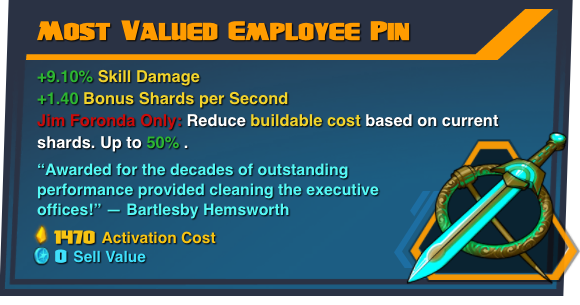 ---
[edit]
And here's a breakdown of each gear card.
Infused Magnus Core - @beya is (to the best of my knowledge) the biggest ISIC fan in the community so I wanted something that felt like it paid tribute to that. A magnus core is essentially the heart of a Magnus and I'd imagine one that has been "infused" is even more special. Originally I was working on the idea that ISIC had modified his energy receptors to convert the blood and tears of his enemies into clean renewable energy, but that idea didn't really pan out. Then I recalled one of the artworks beya did where they were fighting alongside each other and shielding from enemy attacks.
The unique perk and flavour text runs on the idea that enemy fire actually benefits the user by boosting their shields each time they are totally depleted, similar to how a Saiyans from Dragon Ball would get stronger after recovering from major damage. It provides up to +348 Max Shield Strength and because it's major stat isn't max shield, can be combined with more max shield gear to create quite a sizeable shield increase!
Most Valued Employee Pin - Pretty much anyone that knows Jim Foronda, thinks he's an awesome person and the voice actor of several notable characters in Battleborn including ISIC, Oscar Mike and Whiskey Foxtrot. He's also very passionate about Battleborn, having collected nearly every single Legendary gear piece in the game and has even started making his own line of unofficial Lego Battleborn, which if you haven't seen before…prepare to be amazed!!
[details=Tweets of every Lego Battleborn Jim has posted]https://twitter.com/JimForonda/status/845400602712690689
https://twitter.com/JimForonda/status/842898265939099651
https://twitter.com/JimForonda/status/841374776874672128
https://twitter.com/JimForonda/status/839243787318800384
https://twitter.com/JimForonda/status/836644446565445633
https://twitter.com/JimForonda/status/835325185393889281
https://twitter.com/JimForonda/status/834229767578775553[/details]
So there's 2 things going on with this one; he is such an awesome guy that even the higher ups in the LLC HAD to acknowledge his worth and presented him with a special badge of honor (a play on MVP). With it comes a slight wage increase (bonus shards) which Jim is then able to fund his hobby which is building awesome Lego Battleborns