Don't miss the full reveal of Borderlands 3 's first campaign DLC on November 20!
Get ready for a glimpse of your next big adventure, Vault Hunter. On Wednesday, November 20, the full reveal trailer for DLC 1 will be making its big debut at 8:00 AM PST. At the exact same time, the third episode of The Borderlands Show will kick off to deliver more insight into Borderlands 3's first campaign DLC that's launching later this year. The Borderlands Show's regular hosts Greg Miller and Fran Mirabella from Kinda Funny will be joined by none other than President, CEO, and Co-founder of Gearbox Software Randy Pitchford, as they take a look at what's coming in DLC 1 and discuss other news in the wild world of Borderlands. Make sure you don't miss this informative interview about the thrilling story, unique environments, and handsome new loot you can expect from this paid DLC.
The Borderlands Show Episode 3 will air on the official Borderlands Twitch channel starting November 20 at 8:00 AM PST; see the list below for localized times. If you aren't able to tune in for the in-depth DLC 1 discussion as it's happening, you can catch up with the post-show VOD on the official Borderlands YouTube channel.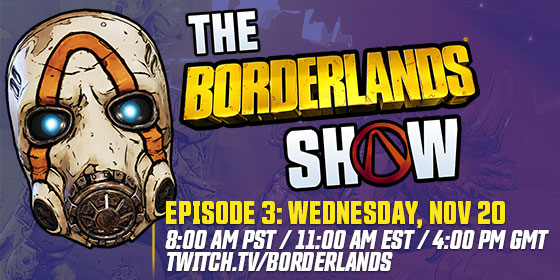 The Borderlands Show Episode 3 starts: November 20 — 8:00 AM PST / 11:00 AM EST / 4:00 PM GMT, November 21 — 12:00 AM CST, 2:00 AM AEST
As a friendly reminder, all four of the upcoming DLC campaigns currently in development are included in the Borderlands 3 Season Pass, which you can buy as an add-on or as part of the Borderlands 3 Super Deluxe Edition. DLC campaigns will expand the narrative and gameplay of Borderlands 3 even further, and we have plenty more surprises in store for next year.
In addition to all the DLC 1 goodness, Greg, Fran, and Randy will be talking about the big patch coming later this month, which includes the endgame challenge of Takedown at the Maliwan Blacksite, Mayhem Mode 4, and some frequently requested quality-of-life improvements. On the free content front, we'll be revealing more details about the Takedown at the Maliwan Blacksite next week before it goes live, and the Bloody Harvest event is still ongoing so you can collect all those spooky rewards before Captain Haunt and his undead minions retreat on December 5.
Don't miss all the DLC 1 info dropping during The Borderlands Show episode 3 on November 20 at 8:00 AM PST—we'll see you there!