HI THERE NEW FRIENDS I AM EXPLODE BOY AND I WILL TEACH YOU HOW TO EXPLOOOOOOOOODE EVERYTHING YEAAAAAAAAAA
Oh, sorry, Kid Ultra just took the laptop from me. He's taken to calling himself "Explode Boy", "Sidekiller", and "Boombot", but mostly the first one. Ugh. What medication is he on? Was it ISIC? I bet ISIC gave him something.
Anyways, this is a build that is focused mainly on EXPLOSIONS. Wait a second. EXPLOSIONS. EXPLOSION EXPLOSION. explode. Huh. If I type in EXPLOSIONS it's automatically in all-caps. I can't turn it off or revert it back to normal. "Explode" is fine, but EXPLOSIONS isn't. Well that's weird.
Moving on… this is a damage-and-happiness-based build that lets you blow up a lot of stuff. EXPLOSIONS everywhere, awesome! Here's a Lowlidev helix link: https://lowlidev.com.au/battleborn/gear-skills#c=kid-ultra,h=1124b259
Explode Boy (Name requested by Kid Ultra himself)
---
Helix
Level One

Here, you'll want to grab Signal in the Sky. You'd think Bola Damage would be preferred, but a whopping 4 seconds off of the Drone cooldown is too good to pass up. A measly 107 dmg(at lvl 1)? Meh. Besides, this build is also about happiness. And happiness is love. LOVE IS IMPORTANT BUT EXPLOSIONS ARE MORE IMP Good god he took it again. I'm going to lock the door now
Level Two

Search and Destroy is an explosion. (See how it doesn't capitalize explosion, but it does with EXPLOSIONS?) This build needs EXPLOSIONS. So, naturally, we're going with the EXPLOSIONS. With the reduced cooldown from Level One, baddos will go boom-boom in no time!
Level Three

Missile Massacre increases the magazine size of your rocket-hands by 3. That's a far better boost than the awkward backfire-move thing that is Retro Rockets. And as far as I'm concerned, 3 more missiles is three more EXPLOSIONS before I have to reload.
[details=Level Four]Reassembling Drones - Even with the EXPLOSIONS granted by Frag Astra
at Level Nine, it's still a dice roll as to whether or not Bank Shot will work. If you nail a minion wave with this perk, your Support Drones' cooldown will drop significantly. Even hitting just two Battleborn with Reassembling Drones will shave roughly 6 seconds of your cooldown time. And more drones means more damage through the power of LLC-brand EXPLOSIONS![/details]
Level Five

Power of Friendship gives a 10% increase to your passive with each allied Battleborn within your Aura of Justice. Friendship is one of the best things organic creatures know! And while Kid Ultra may not be an organic creature, he still adores friendship! Stick close to your buddies to keep the damage rolling and the blood flowing! After all, blood is just what keeps friendliness alive, so when you extract it, you are sharing blood, right? Sharing is caring, and caring is friendship!
Level Six

Take Danger Drone at this level. More damage is good. Really, pick whatever you like here, as long as it's not Reactive Capacitor.
Level Seven

Smart Rockets is the best choice for this build. Off-Screen Reload is fun and all but it doesn't take long to reload anyways, and Turbo Mode, while pretty neato, isn't EXPLOSIONS and has no friendship value. 18% more damage FTW!
Level Eight

Heal-splosion, yeah! Because one, Support Network is unnecessary as your drones will die suicide-explode before you can spawn a total of 4, and two, EXPLOSIONS OF FRIENDSHIP!
Level Nine

Frag Astra is literally an explosion. Plus, it's an expSLOWsion, so it's necessary.
Level Ten

AW YEAH Explosive Entrance is TOTALLY an explosion! EXPLOSIONS!
Gear
Skill damage should be your primary gear here, as it not only buffs your healing but also your, you know, skill damage. I assume this buffs the Search and Destroy damage as well.
Codex Fragment


View on lowlidev.com.auThis is your only viable option for skill damage legendaries. You will be taking a lot of heat in each fight what with being close to frontline allies, so this should turn that pain into friendship power… and pain power.
Cognitive Predictor


View on lowlidev.com.au I prefer this over the Eldrid skill damage item, as this piece gives maximum shield rather than maximum health. Health is great for squishy characters, but Kid Ultra has a fat head that needs protection from crits, and his drones give health anyways.
Golemic Sigil


View on lowlidev.com.auWithout the extra shield strength from the Predictor, your shield will probably be down more often, so procc'ing the effect and gaining extra skill damage won't be hard.
Attack damage will give your rockets the kick they need to knock the big ones down.
[details=The Pacifier]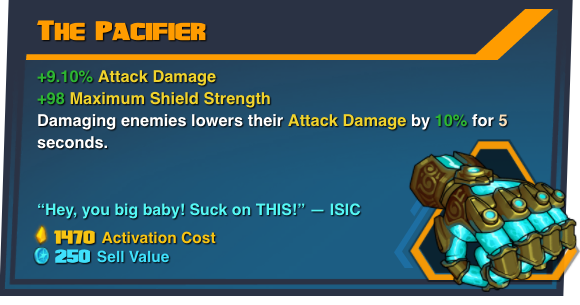 View on lowlidev.com.au Attack damage, ISIC-made,
and shield strength for critical hit protection! Awesome! Plus, with this build's nature to cause EXPLOSIONS, Kid Ultra can debuff the whole enemy team pretty easily![/details]
Symbiotic Gauntlet


View on lowlidev.com.au Expensive, and it smells like dirt, but man does this thing add some firepower to those rockets! Couple with the Smart Rockets helix, this will make your EXPLOSIONS 46% more hurt! And the health, while not needed, can't be bad, right?
YEAHYAEHYAHEAYH BOOM GOES THE DYNAMITE HI I'M EXPLODE BOY AND I JUST GOT BLEW UP THAT DOOR IT WAS PRETTY AWESOME
ANYWAYS IM TAKING OVER FOR THE REST OF MY EQUIPMENT I AM ORDERING ATTACK DAMAGE WITH SHIELD STRENGTH, THATS IT THATS ALL I WANT OH MAN HES GETTING BACK UP IM GOING TO PUNCH HIM IN THE LIZARD GIZZARD AND HOPE HE COMBUSTS INTO FIERY BEAUTYYYY
Ok, I disabled Ultra. I kicked the batteries out of him. I've got to make this quick since I don't know whether or not Ultra has backup power systems. Basically, try out his Lore Legendary, since it provides extra lovepower as well as firepower!