A new character approaches!
You can see his stats here:

As well as his abilities here:

And edited gameplay footage:

Thanks @MentalMars
His legendary: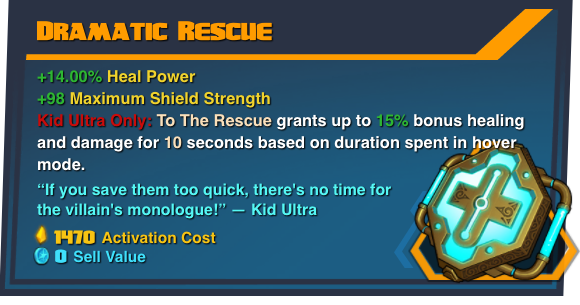 View on lowlidev.com.au
Thanks @lowlines
He is the 4th DLC character and the 6th LLC Battleborn. He specializes in healing and control and benefits melees.
So, what do you guys think of the Sidekick? Is he fun? Strong? Weak? What new thing does he bring to the game? What team comps work best? What builds do you prefer? Gear? Please discuss.
[details=Compendium]
[details=Skins]
[details=The Sidekick][/details]
Hydro Guy

https://forums.gearboxsoftware.com/uploads/short-url/xZM1qNCZCVp3Bq1nzGyUZVWh54U.jpg
Fragnus the Star-barian

https://forums.gearboxsoftware.com/uploads/short-url/kb9yCYQ6imYsEWo8f2xLWSEh4Cx.jpg
The Pink Plasma

https://forums.gearboxsoftware.com/uploads/short-url/sh6qwJTeTBFWiiIycZBeHX7TKQw.jpg
Gamma Gal

https://forums.gearboxsoftware.com/uploads/short-url/qQS8xS6cbwSEOreD4zjxduYknvd.jpg
The Mauve Marauder

https://forums.gearboxsoftware.com/uploads/short-url/9OretsObREfUPSZhs5juRLfy0xD.JPG
[details=The Phasic Phantom][/details]
Captain Aster

https://forums.gearboxsoftware.com/uploads/short-url/quuxQi4zPKVsaPowATTjaUUT5UL.JPG
Dr. Noxtopus

https://forums.gearboxsoftware.com/uploads/short-url/4cEYEUnn0Ee26663KbwM4aXhVM6.jpg
Baron Xavier, Solar Savior

https://forums.gearboxsoftware.com/uploads/short-url/ias5jyllnHS96YCA2Cgwm30ANKz.jpg
Cyber

(unreleased)
Rednaught the Dread

https://forums.gearboxsoftware.com/uploads/short-url/rpI8qGkNxUwpVkhXmXZbodjmT9L.jpg
Papa la Sharde, Voodoo Pirate

https://forums.gearboxsoftware.com/uploads/short-url/oCizGzYMZgslCfapYkarxte2Hii.jpg
Commander Cobalt

https://aws1.discourse-cdn.com/gearbox/original/4X/6/4/f/64fa4f6fedb39aa9fd3db43fb4d3ecc5b805afc8.jpg[/details]
[details=Taunts]
Assembly Required

Rewarded by default
Sign of Reproval

Reach Character Rank 15
Open Challenge

Complete lore challenge: First Flaw of Robotics
[details=Moral High Ground]
Rewarded from lootpack[/details]
[details=Hyperchild]
Rewarded from loopack[/details]
Righteous Hand

Purchased with Platinum
[/details][/details]