Homeworld:@ is an alternate fan-sequel project. We take Homeworld 1 and Cataclysm as our starting point and build new art, gameplay, and story out from those, discarding all but a few starting-point elements of Homeworld 2. We have a playable skirmish mode with all new fleets, and even new mechanics such as drone frigates akin to Cataclysm's hive frigates. We also have a survival mode where you fight against ever increasing waves of enemies, and later on special extra threatening boss ships.
We have over 40 fully modeled and textured ships from a variety of contributors. However, new players should be aware that our planned ship lists are large and to fill out the gameplay we've put placeholder models in many roles. These range from untextured rectangles to partially finished actual models. If you're playing the survival mode you have the option of only fighting ships with finished art, though you can still build placeholder ships yourself if you choose to.
Downloads for the mod can be found at http://steamcommunity.com/sharedfiles/filedetails/?id=636887139 or at http://www.moddb.com/mods/homeworld2. Information about our ships can also be found at http://hwat.pathstoeat.com/, however that information is currently quite out of date, pertaining only to the last classic game version of the mod.

It's been a long time since we got to increase that second version counter, but here we are. I'm proud to present something that's been in the works for a long time, campaign content.
Patrol of the Lihal-Adaar Mission 01: Convoy
Long teased, a single player mission is available. Fully voice acted and featuring a short introductory cutscene, it follows a rising Command officer leading a carrier group to stomp out pirate activity in allied territory. A lot of work went into making the objectives more complex than just two fleets smashing into each other, and we look forward to seeing the community's response to it.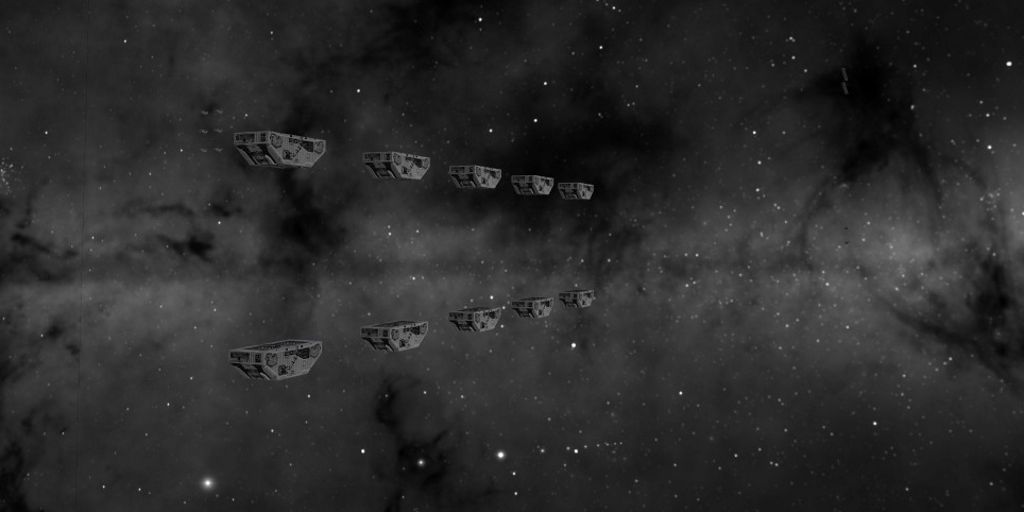 Special thanks go out to our voice actors and the artists that let us use their music. The mission features two tracks new to Homeworld and four different actors lending their voices, with care given to get as close as possible to Homeworld's style of delivery and voice processing. To me these have really brought the mission to life.
Included are two different difficulty levels, and if they're both too hard or too easy for some people I can look into expanding that range in the future. Difficulty will likely have to be tweaked once mission 2 comes along as we start to get a handle on how to design for persistent fleet, which seems to be one of the biggest design challenges of a Homeworld campaign.
However, I'd like to be clear about something. Fulcrum has big plans for a large campaign, with outlines coming to between 14 and 20 missions. This mission is part of a separate campaign, that will span 2 to 4 missions when complete. Think of it as like old RTS demos that had small unique campaigns rather than a small part of the main campaign. It's in the same world and it may set up things the main campaign builds on, but it is a stand-alone story. This was done to give us a chance to build our mission design skills without worrying as much about screwing up the campaign we've invested so much in planning out. It exists now as a proof of concept that while mission making may be very demanding, it is possible. As it is very much a path-finding experiment for us, any and all feedback on it's quality and fun level is valued.
Thanks also to the folks that have helped test the mission before release, both recently and back before the mission development had to be put hold for the HWR and 2.0 transitions, their input has led to important improvements in areas that I thought were good enough but turned out not to be. If I've forgotten to add anyone who tested it to our credits, just send me a message and I'll add you for future versions
Vaygr Heavy Fighter
Also included in this released is a finished version of a Vaygr strikecraft. This heavy fighter represents a newer wave of concept art than the past placeholder ships were based on, and better matches the story our vaygr art is intended to tell.
(View in 3D)
As always we've got a lot of other irons in the fire that aren't quite done, but I'm quite excited to finally have representatives of all sizes of Vaygr combat craft in the game.
There have been a few other changes and tweaks as we get more comfortable with HWR 2.0, but I'll leave them for the full changelog. As always, thanks for playing, and have fun!